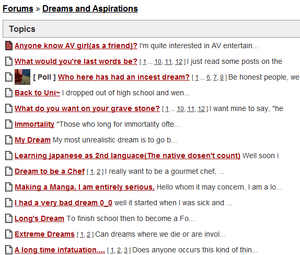 A section of Fakku that allows users to express their passion for pursueing certain dreams. The forum was said to be created with the intention of expressing goal-oriented dreams but has become a place for users to tell of nightly dreams.
An example of a post in this section:
How do you see your life in 20 years?
My life I don't see as perfect but it's a good one. I see myself with a home
of my own, my GF is now my wife, I've a few kids, all in their teens.  I'm 
making an honest living as a teacher(what I'm going to college for). In my 
house I have one room to myself, my sanctuary, filled with books, ranging 
from manga to theology/philosophy, a TV and a few game systems. a squashy 
armchair, and a desk where I sit and do my work, grading papers, and paying
bills.

Community content is available under
CC-BY-SA
unless otherwise noted.