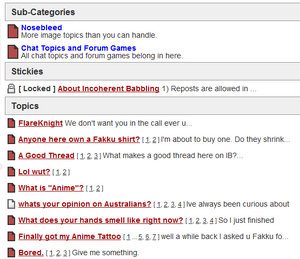 A section of the Fakku Forum where users can post about topics that are either not serious or lack intelligence. . Rules for posting also dictate that video, user achievement/anniversary and birthday wish topics need to be posted in this section. Posts here do not add to a user's overall post count. Incoherent Babbling has something of a reputation for arguements and spamming/trolling, though there are plenty of posts that lack this. If a thread is moved, it usually ends up here.
Sub-forums include "Nosebleed " and the now divided "Chat Topics and Forum Games ". The moderator of Incoherent Babbling and its subforums is Waar.
It is currently the largest section, with over 9000 topics and 280,000 posts.
An example of a post in this section:
"Okay, so i think this may already be a topic, if it is then it can be deleted or moved or whatever, because I'm unsure and I have searched for this topic, and then thought 'what the hey' and I wanna see what you guys think.

So this is my first poll, and as a female member of mainly an all guy group of Fakkuers, what do you like in a girls chest?

Do you like big boobs which are just so cushuable?

Do you like medium sized boobs which just about fit in your hand?

Do you maybe like a Lolita chest with nothing there?

Or do you go for beyond normality and have the fantasy sized breasts that most guys like to see in a magazine or a hentai?

As a girl, I hate big boobs, I just think ;how can she stand there like that amnd not topple over?' but some guys like it and some girls wnat that sort of chest.

And if you put in what you like about the feel of breasts (firm, squishy or just about both) then that would do as well.
I'm just like, really curious..."

Community content is available under
CC-BY-SA
unless otherwise noted.