This user is an extreme addict to LEAF Visual Novels..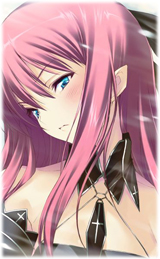 Ends all of his sentences with Ruu... to imitate Lucy Maria Misora from To Heart 2, and he's been learning Japanese since 2008 to play VN's.
He is closely acquainted with Kaimax due to their mutual love toward LEAF's works. Joined around May 2009 and been actively posting in various sections like Incoherent Babbling and Art and Digital Graphics. Later he had a decline of activity around the beginning of 2010.
He's currently active on DeviantArt as a professional anime artist.
He has the collections of the most popular Art Threads in the Art section. Where he posts his anime drawings, which reigned popular responses from the entire FAKKU community with tons of replies appraising his work. With the decline of his activity, he still managed to update his thread in irregular frequencies.
Nowadays as of 2012 this user is considered inactive since he hardly posts anymore.