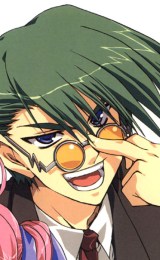 Kaimax is the current Visual Novel and Eroge Discussion moderator, and creator/updater of the game uploads masterlist. Among the oldest registered users on Fakku, Kaimax has amassed a ridiculous amount of posts and high reputation for his VN uploads as well as his regular assistance of users, in the Requests forum and more generally. Though less huggable than fellow moderator Gambler, he is likewise well known for his physical inability to get angry.
He's chosen as a moderator for the Visual Novel and Eroge Discussion because of his wealth of knowledge regarding VN's, and his fluency in Japanese.
Currently, he's active in his own section, and the User Uploads Section, where he gives assistance to our fellow FAKKU users regarding finishing VN's, help with VN installation, and fixing gameplay issues.
He is also known to some users as the god of all that is Leaf/Aquaplus most known for his Comic Party Avi's of Taishi.
Noteworthy threads

New Visual Novels

Character Crossovers

Master List of Visual Novels, Eroge and Game Uploads

New Visual Novel Translations!

VNs with ONLY Pure Love Story

The Official RO Private Server Thread

LEAF Girls NEW C79 BANZAI

New Games to Look Out

ATLAS and AGTH Guide for Playing Japanese Visual Novels

Visual Novels Recommendations and General Discussion
Community content is available under
CC-BY-SA
unless otherwise noted.