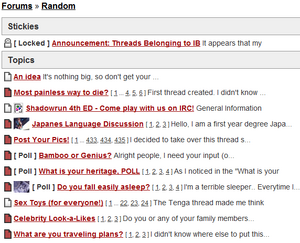 A section of the Fakku Forum where users post about anything that does not fit in any of the other categories. Posts in Random are generally expected to have more well thought out responses and stick to their topic more than those in its sister forum,
Incoherent Babbling
; if a thread created in Random does not have a serious point or veers off-topic it may be moved there. In an effort to distinguish more between the two, all "video threads", "birthday threads" and threads celebrating user status achievements and/or anniversaries are now listed as 'belonging to IB', and reposting of previous topics in Random is now advised against. The moderator of Random is
Waar
.
An example of a post in this section:
"Just the other day, when I was on my way home via the train (some prefer 
to call it the subway), I saw a particularly hot female with fairly large 
breasts getting onto the same carriage as myself. She was wearing a white 
stretchable t-shirt and one could clearly tell she was wearing a blue 
lacey bra beneath.

Well then, you may ask, what does the above got to do with striking up a 
conversation with strangers? To tell the truth, nothing. I could continue 
ogling at her until I noticed a seated passenger, this time being an 
office lady, watching an episode of Lucky Star on her laptop.

I was tempted to go up and speak with her, since we do have something in 
common, namely anime. Unfortunately, I lacked the courage to do so. 
Furthermore, I am afraid that the other party may see me as a weirdo, or 
even a pervert, especially when said stranger is a female.

Which brings me to my question: Will you attempt to strike up a 
conversation with a stranger whom you believe has similar interests as 
that of yourself? It could be anime, manga, novel, or even a newly 
released technology gadget which serves as evidence of his/her interests.

Perhaps all of us could attempt to make new friends (or at least 
acquaintances) whenever possible and post our experiences here, be it 
whether we were successful or not."